European Storm Forecasts
Vår ovädersprognos baserar sig på NOAAs GFS modeller som i detta fall bland annat beräknar energin samt temperaturskillnader i luftmassor. Det skiljer 6 timmar mellan bilderna. Klicka på bilderna för större version.
Klicka för en animerad och längre
ovädersprognos
för de kommande dygnen
Wiki: CAPE - Convective Available Potential Energy | LI - Lifted index
24-timmars ovädersprognos från ESTOFEX
ESTOFEX utfärdar så kallade "Storm Forecasts" på en daglig basis. Huvudinriktningen av prognoserna är hotet för hagel, kraftiga vind vindbyar samt tornados. Dessutom är områden där blixtnedslag förväntas markerat.
Ikoner: Röd: Tornados - Blå: Krafrigt regn - Grön: Stort hagel - Gul: Kraftig vind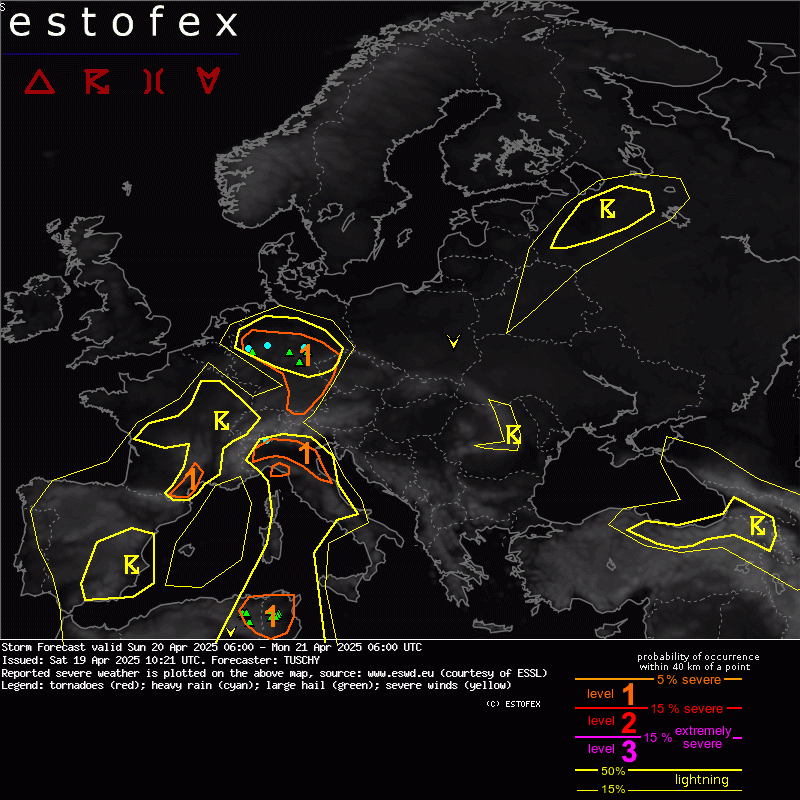 SIGWX - Viktigt väderdiagram
Kodnyckel och teckenförklaring
Länkar till prognoser
Badtemperaturer från GP fungerar inte för tillfället
Snörapporten - Snödjup, väder, lavinrisk m.m.
Båtväder och prognoser
Länkarna ovan öppnas upp ett nytt fönster
WEATHER TRIVIA
-
Weather Terms
Downburst - A strong downdraft from a thunderstorm resulting in an outward burst of damaging winds on or near the ground. Downburst winds are often 50 to 100 mph and in a few cases, 100 to 150 mph. They can do as much damage as a small tornado.