European Storm Forecasts
Vår ovädersprognos baserar sig på NOAAs GFS modeller som i detta fall bland annat beräknar energin samt temperaturskillnader i luftmassor. Det skiljer 6 timmar mellan bilderna. Klicka på bilderna för större version.
Klicka för en animerad och längre
ovädersprognos
för de kommande dygnen
Wiki: CAPE - Convective Available Potential Energy | LI - Lifted index
3-dygns ovädersprognos från European Weather Network
EWNs ovädersprognos baserar sig på en WRFDA modell och har en högre upplösning än GFS.
Extremt oväder
Oväder
Risk för åska
15%
15%
5%
50%
15%
24-timmars ovädersprognos från ESTOFEX
ESTOFEX utfärdar så kallade "Storm Forecasts" på en daglig basis. Huvudinriktningen av prognoserna är hotet för hagel, kraftiga vind vindbyar samt tornados. Dessutom är områden där blixtnedslag förväntas markerat.
Ikoner: Röd: Tornados - Blå: Krafrigt regn - Grön: Stort hagel - Gul: Kraftig vind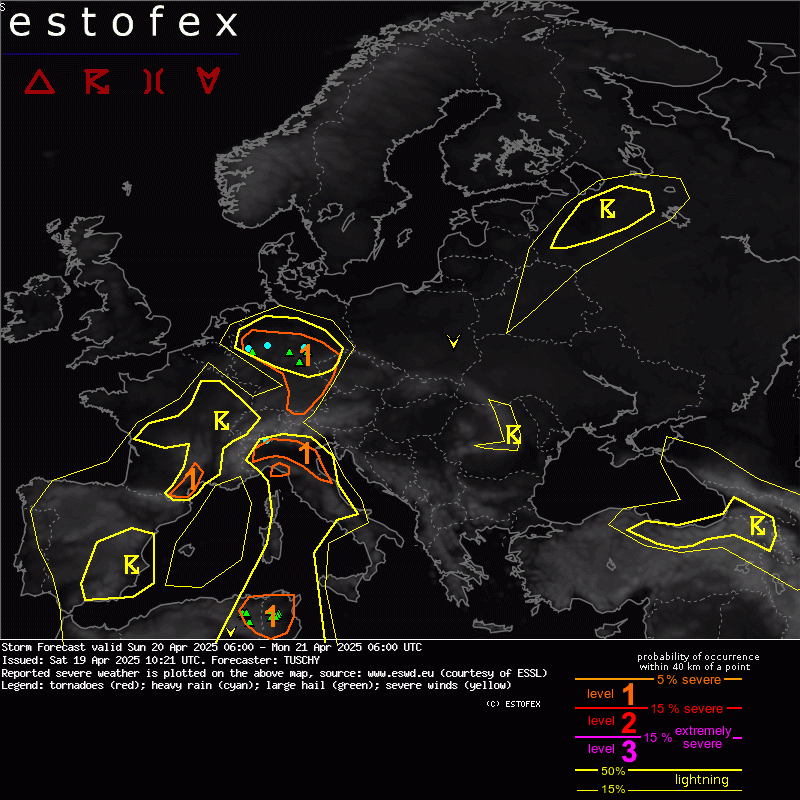 SIGWX - Viktigt väderdiagram

Kodnyckel och teckenförklaring
12-timmars åskvädersprognos från 21st Operational Weather Squadron
N/A
Länkar till prognoser
Badtemperaturer från GP fungerar inte för tillfället
Snörapporten - Snödjup, väder, lavinrisk m.m.
Båtväder och prognoser
Länkarna ovan öppnas upp ett nytt fönster
WEATHER TRIVIA
-
Weather Terms
Severe Thunderstorm Warning - A severe thunderstorm is indicated by Doppler radar or sighted by skywarn spotters. A severe thunderstorm contains large damaging hail, 1 inch diameter or larger, and/or damaging winds of around 60 mph or greater. These warnings are issued on a county by county basis by the local Weather Forecast Office in Chicago/Romeoville.